HYDROS Control Smart Plug
Brands
Why Fragtastic is the Best!
Fragtastic Reef is a REAL store with REAL Customer Service. Shopping online can be frustrating not knowing who is selling out of their basement or garage. Fragtastic Reef is one of the very few REAL fish stores that also sells online, and has a FULL Brick and Motar Retail Store! We not only have a full retail location but also a warehouse with massive selection of inventory in stock, and you can even pickup at our retail location.

Most products on our website are in stock and shipped by us from our retail location.

Be sure to also go to Our Facebook Page and Like Us. We have giveaways, discounts, and specials on there all the time. There is no purchase necessary on our giveaways and prizes. Make sure also to sign up for our Email updates, to keep in the loop with new products and specials we are doing.

You can finally stop waiting on hold with those other online vendors. Fragtastic Reef is open 7 DAYS A WEEK - Because we care about your success and your tank!
Product Description
The HYDROS WiFi Smart Plug is a smart power outlet designed to work with the CoralVue HYDROS platform.
The Smart Plug has a 1 x 100-250V AC outlet that is WiFi controllable using the free HYDROS app for Android and iOS/Apple mobile devices. You can turn the outlet on and off wirelessly over a 2.4 GHz WiFi frequency. The Smart Plug has a range of 98', so you can place them around your home without any difficulty connecting to your modem or router.
The key difference between the HYDROS Smart Plug and the HYDROS Power 4 Power Strip other than the number of controllable outlets is that the Smart Plug can measure the current and wattage of the device it is powering and alert you if it moves out of tolerance.
Like the Power 4, the Smart Plug has an LED status indicator to let you know when the outlet is energized.
Control and Monitor Aquarium Equipment from Your Mobile Device
By using the HYDROS app with the Smart Plug, you can create rules and schedules to turn on and off different pieces of aquarium equipment, like a pump, powerhead, light, heater, algae scrubber, UV sterilizer, protein skimmer, and whatever else you may want to control on-demand or put on a schedule.
Control Multiple Smart Plugs from a Single, Easy-to-Use Mobile App
Another great thing about the Smart Plug is that you can control multiple Smart Plugs from the HYDROS app. You might use one to power the heater in your display tank, another for your return pump, and a third in your office which you could program to turn on a lamp to alert you if one of your connected devices is not operating normally. The beauty of it is that you can control all these different Smart Plugs that are being used for different purposes using a single app.
Monitor the Power of Your Devices So You Can Take Corrective Action
The HYDROS Smart Plug continuously monitors the energy use of whatever is plugged into it. By measuring the current and wattage being consumed by your equipment, you will know if a device is not operating normally and an alert can be sent to your mobile device. For example, if you observe that the power consumption of your pump has declined, that may be a good indicator that it is time to clean the pump to improve its performance. You could also connect a battery backup device to a Smart Plug to monitor its power consumption so that if anything changes, you would have the opportunity to replace the battery to ensure your aquarium is protected in the event of a power failure.
Be Notified If an Outlet Fails So You Can Take Corrective Action
You can also monitor your Smart Plug outlets. If an outlet fails or loses its WiFi connection, you will be immediately notified via alerts to your mobile device. This safety feature can help prevent a tank catastrophe. For example, if the outlet powering your return pump failed, you would receive a notification to let you know something is awry so that you can take corrective action. As a temporary fix, you might decide to turn on all your flow pumps and increase their speed remotely via the HYDROS app to keep the water moving and the temperature stable until you can arrive home to investigate.
HYDROS Smart Outlet Specifications
Item #: CV-HDRS-P205
Power: AC 120V
Outlets: 1 AC Outlet
Total Power Rating: 10A
Total USB Power: 2A
WiFi Frequency: 2.4 GHz
Max Range: 98ft

HYDROS WiFi Outlets
The HYDROS Control system can utilize WiFi-based power outlets as part of its configuration. These outlets can be used to switch lights, pumps, heaters, and other equipment on or off as needed in an aquarium environment.
The power outlets connect to the Control device via WiFi. Understandably, there are concerns about the general reliability of these outlets and the possibility of a loss of communication.
One thing that should be pointed out is that HYDROS talks to the outlets directly on WiFi. No cloud interaction is involved. Thus, as long as your WiFi hub is operating, the outlets will work even if the outbound Internet connection fails.
The following outlines some of the safeguards that have been taken to reduce the probability of failure.
Monitoring
HYDROS does not treat the outlets passively. Control 2 and Control 4 devices monitor each WiFi outlet continuously at a rate of at least once a second. HYDROS communicates with each outlet and verifies that it is returning the correct status. If the state is incorrect (for example, if the outlet was switched ON or OFF manually), HYDROS will immediately switch the outlet back to where it should be.
If the HYDROS Control device cannot communicate or verify the status of an outlet, an alarm will go off, and it will send a notification email or SMS text to the user. This process allows the user to know if an outlet disappears or malfunctions immediately.
On the Smart Plug WiFi outlets which support current measurement, HYDROS can also verify if the device's current consumption is within the expected range. So, for example, if a heater is supposed to consume 400 watts, an alert can be sounded if it is less than 350 watts (probably will be zero if it failed).
Fault Tolerance
Even though HYDROS monitors all outlets continuously, it is better to avoid communication loss in the first place. HYDROS devices support the ability to have multiple WiFi hubs. (see Figure 1)
The first drawing is a typical home WiFi environment with HYDROS: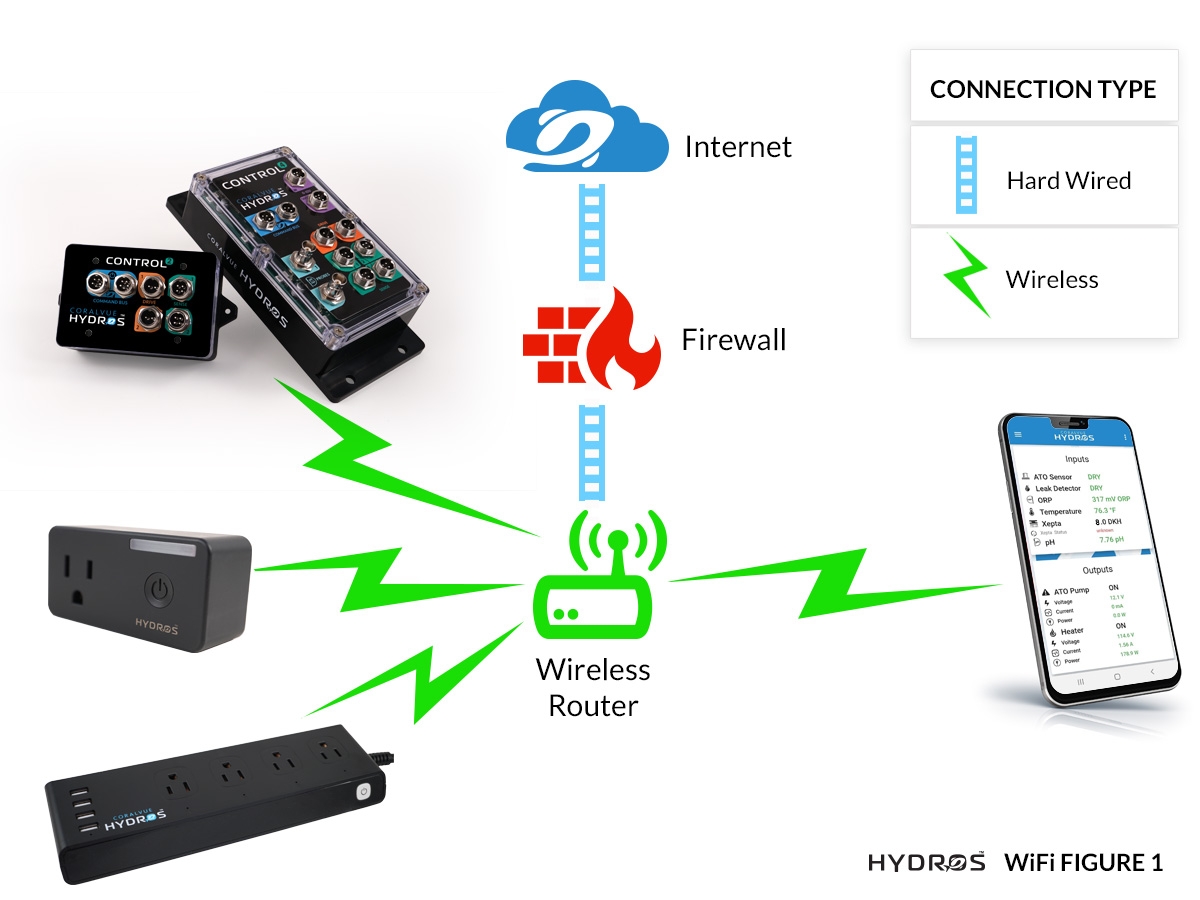 In this configuration, it is clear that if the router/hub in the center fails, all communications will be lost. This scenario is relatively unlikely, especially with a modern, good-quality router. However, anything can fail, and this does constitute a single point of failure. (See Figure 2)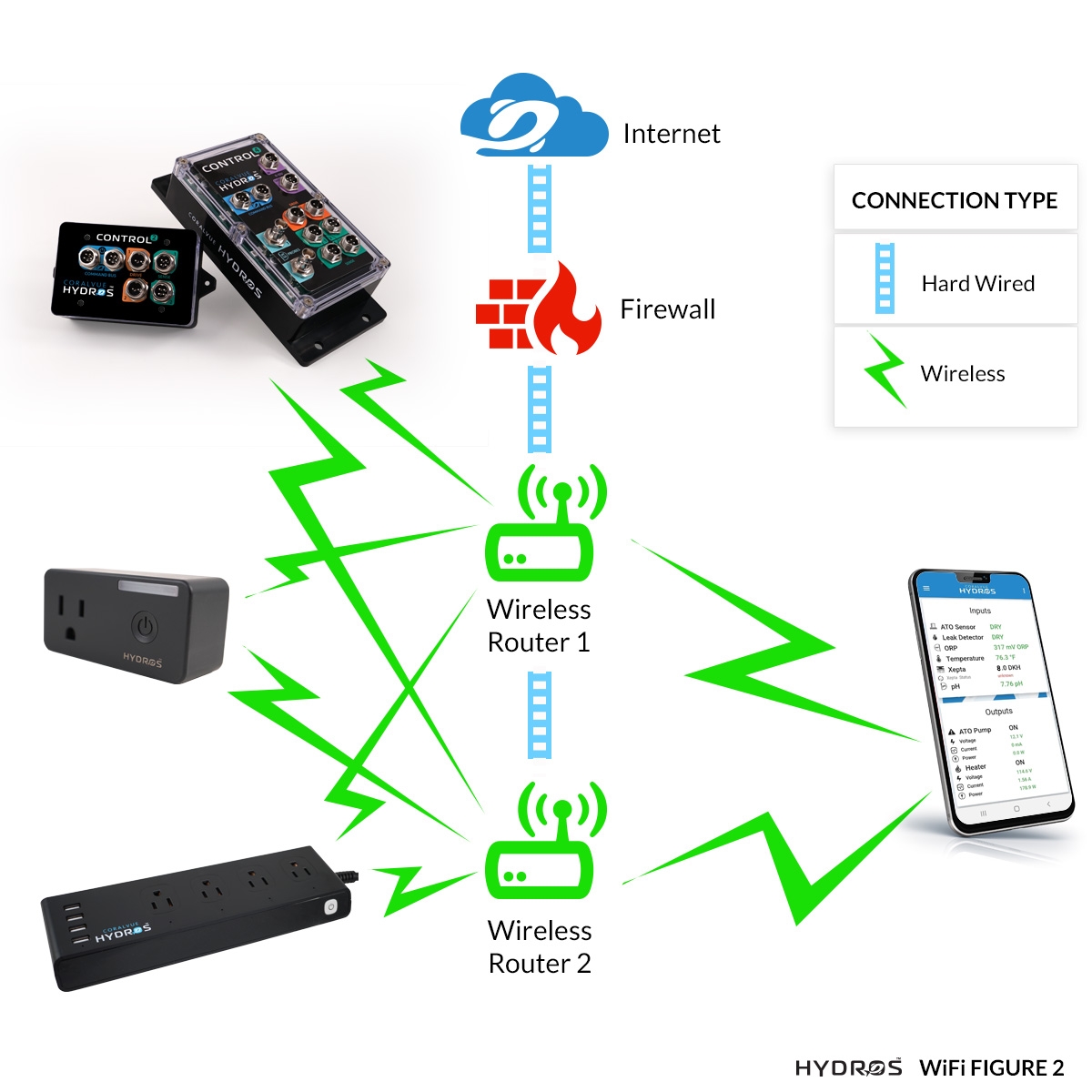 However, reconfiguring the network as follow ensures the single point of failure disappears.
Now we have two WiFi hubs, and each device can connect to either of them. This redundancy allows the network to survive the loss of either hub. The hard-line between the two hubs handle the situation when some devices connect to Hub A and others to Hub B. Installing additional hubs can provide triple or even quadruple redundancy.
Multiple hubs can also be used to increase coverage area by locating them apart from each other.
Damage Mitigation
Even though the network can be configured to avoid any single point of failure, it is still possible that a total WiFi failure could occur. Of course, HYDROS notifies the user immediately, but perhaps he or she is unable to act on it. This notification would take place even if WiFi or Internet connectivity is lost. In this case, the message will originate from the HYDROS Cloud servers. When communication is lost, the outlet will remain in the last state it was told to be in (if it were ON, it would stay ON).
To further failsafe the system, it is good to take active steps to minimize the potential damage caused by failures. These steps are good recommendations with or without the presence of WiFi outlets. Controllers can fail. Many aquarium controllers are not built to tolerate a saltwater environment. These controllers are subject to internal failure at any point due to salt creep and internal arcing. In a recent incident, many existing aquarium controllers failed due to a faulty software update. Numerous hobbyists lost livestock and equipment as a result. Of course, anything electronic is capable of failing, so it is always a good idea to provide secondary backups for critical systems.
When using a heater, it is recommended to select one with a built-in thermostat. Set the heater's internal thermostat a little higher than the desired temperature. For instance, if it is desired to have the tank at 78°, set the thermostat on the heater to 80°. The HYDROS system will switch the heater on and off as needed, but the thermostat on the heater will never activate. Since that thermostat is never activated, its contacts will never wear or arc.
USA SHIPPING
Limited Time - FREE SHIPPING ON ALL ORDERS OVER $29! Most orders will ship the same or next business day of when you place the order. We can ship to virtually any address in the world. Note that there are restrictions on some products, and some products cannot be shipped to international destinations.
When you place an order, we will estimate shipping and delivery dates for you based on the availability of your items and the shipping options you choose. Depending on the shipping provider you choose, shipping date estimates may appear on the shipping quotes page.
Almost all items on are website qualify for FLAT RATE or FREE shipping! Order over $29 in products and receive FREE shipping on your order.
International Shipping & Orders
We ship Worldwide everyday. Please contact us for shipping quotes and availability on any products you would like to purchase.
International orders do NOT qualify for free shipping, please contact us for a shipping quote.
We only accept Paypal as payment for international orders and customers and must ship to a confirmed address.
Product Warranty
EVERY ITEM WE SELL IS BRAND NEW & COMES WITH A FULL MANUFACTURE WARRANTY! We do not sell used, defective, or returned product to our customers. Only exception to this is in our clearance and open box section of our website. Even those items still include a full warranty, and are usually an amazing deal if your looking to save money!
Most brands and products we sell have typically a 1 year warranty, with some products having up to 3 or more years. If you have any questions on warranties you can check the manufacture website or just contact us with any questions. At FragtasticReef.com we sell only the best products, and only products we recommend and use ourselves, so you can buy with confidence.
We are an authorized dealer and retail partner for every brand we sell!
Find Similar Products by Category